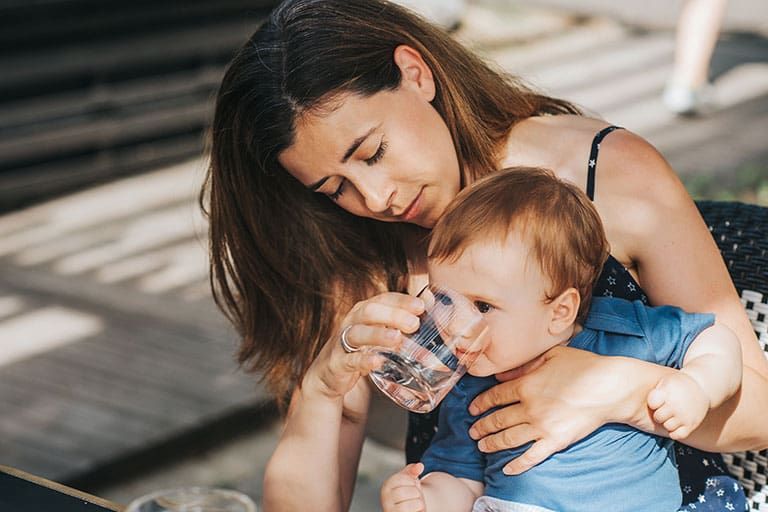 Follow these tips to help protect yourself and your infants and children from heat illness:
Have an Extreme Heat Plan.
Keep an eye on weather forecasts and heat advisories so you know when extreme heat is coming and how long it will last. Drink more water than usual throughout the day and wear loose-fitting, lightweight clothing. Create your personalized extreme heat plan.
Know the Signs!
Heat exhaustion signs include heavy sweating, weakness, dizziness, nausea, and headache. Heat stroke symptoms include a fever of 103 degrees F or higher, confusion, and loss of consciousness. If you are suffering from heat stroke, seek medical attention immediately.
Keep Cool.
Know where your local cooling center is located and where to find transportation. Set your A/C to 75—80 degrees F. If air conditioning isn't available, visit spaces with air-conditioning, like a cooling center, library, community center, or shopping center.
Be Mindful of Overheating.
Infants and children don't sweat like adults do, reducing their ability to cool down on their own. Apply sunscreen with an SPF of 15 or higher to protect children's skin from the sun. Take advantage of public pools and splash pads in your area to cool off, but be mindful of the amount of time spent outside. Children will need frequent breaks to rest and cool off. Lower the intensity of any physical activity lasting more than 15 minutes. Take regular breaks from any physical activity – at least one every hour.
Pay special attention to their face and body language
If a child feels overheated, apply a cool compress to their forehead or the back of their neck to help lower their body temperature.
Do Not Leave Children Unattended in the Car!