When you're pregnant, your body must work harder to cool down both you and the developing baby.
Extreme heat can  also worsen swelling in your legs and feet.
Pregnant women are more likely to become dehydrated. This means they won't be able to cool themselves as well by sweating.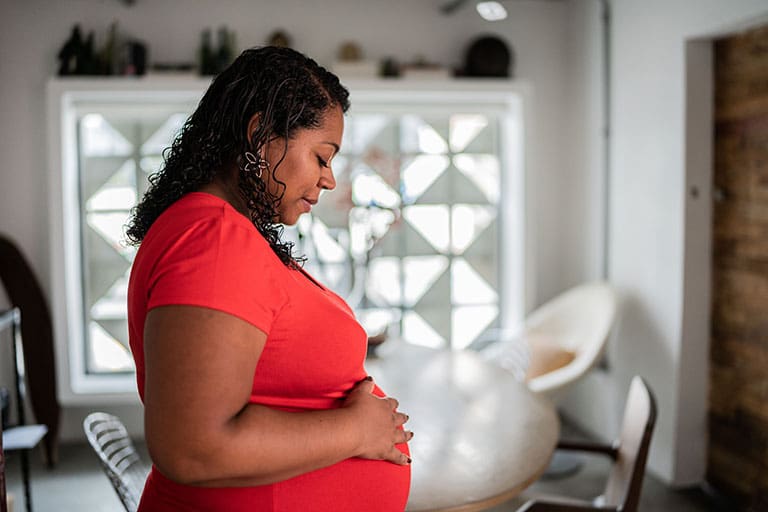 Follow these tips to help protect yourself from heat illness:
Have an Extreme Heat Plan.
Keep an eye on weather forecasts and heat advisories so you know when extreme heat is coming and how long it will last. Drink more water than usual throughout the day and wear loose-fitting, lightweight clothing. Create your personalized extreme heat plan.
Know the Signs!
Heat exhaustion signs include heavy sweating, weakness, dizziness, nausea, and headache. Heat stroke symptoms include a fever of 103 degrees F or higher, confusion, and loss of consciousness. If you are suffering from heat stroke, seek medical attention immediately.
Keep Cool.
Know where your local cooling center is located and where to find transportation. Set your A/C to 75—80 degrees F. If air conditioning isn't available, visit spaces with air-conditioning, like a cooling center, library, community center or shopping center.  
Be Mindful of Overheating.
Carrying children disrupts the body's ability to regulate temperature. Be sure to talk to your healthcare provider or OBGYN to find out if you are taking any medications that may increase your body temperature.
Save the To-Do List for Later.